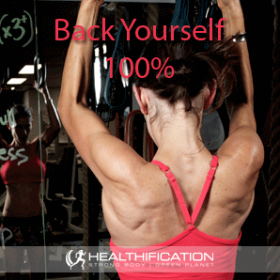 1. Have A Compelling Goal.  
It may relate to your winter sport of choice or perhaps to the shape you want to be by the time summer sizzles again.  Your goal needs to be specific, with a deadline and it's important to really delve into what achieving this goal will give you?  For what purpose do you want this?  What will it mean to you, those you love, and your ideal life?
=> If you find yourself wavering it's often hugely effective to simply ask yourself again;
For what purpose do I want this? 
=> All you ever need to do is take that one next step. This Motivation Strategy works well for me when I'm tempted to deviate from the action I know I need to take:
a) think about/tell yourself how important this goal is to your core identity beliefs, values and happiness
b) evaluate what needs to be done
c) think about how good the results will make you feel.
RESULT: action!!!
2. Set Your Standards.  
These are your own personal rules – the absolute Must-Do's.
=> Such as how frequently you will exercise and your strategies when eating out.
(winter does Not need to = massive pub pies and fries!)
Your standards will guide the decisions you make and once you're clear on your standards the day to day choices you make with regard to your exercise and nutrition will become much easier.
3. Sort Wet Weather Alternatives.  
Your exercise cannot be at the mercy of the weather.  If you're not inclined to throw on a jacket and stroll in a torrential downpour, then it's time to find a space where you can make your exercise happen.  Regardless.  Maybe a gym.  Perhaps a body-weight work-out at home.
4. Organize 3 Quick, Easy, Nutritious 'Go To' Alternatives For Each Main Meal.
If you like soup and stew in winter, then take the time now to find or create recipes that support your body composition goals.  High in fibrous (rather than starchy) veg, high in protein, able to be made on mass and frozen in portions is a great start.
=> Here's one of my fav's…
Cauli-mash with Ratatouille & Crispy Brussel Sprouts
1/4 of a cauliflower per serve
1 heaped dessert spoon of nutritional yeast per serve
Celtic sea salt & pepper to taste
1 eggplant / 1 red capsicum / 1 green capsicum / 2 zucchini / 2 onions (red or brown)
2 cloves of garlic
1 400g can of tomatoes in juice
1 tablespoon of vegan basil pesto
fresh herbs to taste
6 large or more smaller brussel sprouts per serve
olive oil 
chili flakes
mixed dried herbs
To make the ratatouille; it is optional but recommended to bake without oil capsicums till skin is charred (at that point remove the skin) and chop the now sweeter capsicum. 
As capsicums bake, in a large heavy lidded pot or pan heat 1 tablespoon of olive oil with garlic and onions.  When onions are lightly browned and transparent add chopped eggplant and canned tomatoes.  As eggplant begins to soften add chopped zucchini.  Next add chopped roasted capsicums and optional harder herbs like oregano.  Cooking time is dependent on how you like your ratatouille – 30 min is a good starting point. Near end of cooking add pesto, fresh softer herbs like basil and season to taste.
To make the crispy brussel sprouts; slice length ways each sprout into 4-5 rounds.  Cover an oven tray with around 1-2 teaspoons of olive oil and spread the sprouts out evenly in one layer.  Sprinkle with chili and mixed herbs to taste and cook in a hot 250 degrees oven turning frequently.  Watch closely to ensure they don't brown beyond your desired crispiness!
To make the mash, steam of microwave cauliflower until fairly soft.  Add salt and pepper to taste and nutritional yeast and mash with potato masher.
To assemble cover a plate with a generous serving of hot mash, covered in ratatouille (the above will make several serves which freeze and reheat well) and finally top with crispy brussel sprouts.
5. Stay Hydrated.  
Too often we eat when we are in fact hungry.  In winter it's just as vital for your body to remain hydrated though it's easier to forget when you're not sweating it out in the sun.  In the same way that the 'starvation response' when you under eat causes your body to hold onto food, you will retain water (that bloated look!) if you are under drinking.
BONUS TIP: Liquid calories are less satisfying and super easy to over consume. Be weary of winter liquid calories such as hot chocolate, extra coffee with milk and/or sugar and Yes, those gorgeous red wines as well.
Love to hear your winter fat fighting favourites!