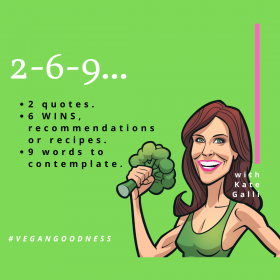 This is the first of a new weekly email series where I share vegan goodness and good news:
2 quotes.
6 WINS, recommendations or recipes.
9 words to contemplate.
My intention is to provide a little spark of positivity for us both (!) to take into our weekend.
I'd also love to share plenty of the abundant deliciousness and wisdom out there. As a movement we will have most impact when we work together focusing on love and compassion for the animals, the environment and ALSO our fellow humans.
With that in mind this 2-6-9 email is focused on, Solidarity.
2 Quotes.
"Solidarity is the glue that binds us together in a world that often seeks to tear us apart." Desmond Tutu.
"When we realise our essential oneness, compassion and love naturally flow towards all beings." Thich Nhat Hanh.
6 WINS, Recommendations or Recipes. 
Win: Whether you're a fan of cultured meat or not, it's a HUGE win that as reported in Plant Based News on 23rd June: "Meat made without killing animals will be on US menus next month. "I'm not rushing out to try this meat however I am certainly celebrating its availability for the non-vegan majority.
Win: I'm going to take hope from this com article that states: 'Seismic shift': Younger Australians reject idea humans have right to use nature for own benefit, survey shows. The article goes on to share, "The survey of 2,000 Australians also found 79% of people think the nation's economy is at risk from the deterioration of the natural world." I believe people do care. They want to help. My first recommendation is a great start…
Recommendation: the Plant-Based Bundle: 150+ Ebooks, Programs and Guides offered at a 99% discount! This year I have 2 offerings in this AMAZING bundle of plant-based goodness: my 30 Day Plant Strong Jumpstart and also month one of the Plant Positive Journal! Some of my favourite vegan creators are included in this incredible offering. Please consider using my link if you do purchase the Plant-Based Bundle.
Recommendation: the Complex Equivalent. This is an effective mind game to play with yourself where you make something MEAN something else to help you take the better action.
They can be factual like: Doing my intervals today means I'm more likely to find them easier next time I'm due to do them.
Equally as effective they can be made up yet designed to compel you to take the action that gets you the result.
Such as: Sticking to all my scheduled interval sessions this month means my thighs will look lean and toned as I get to feel super confident rocking my short shorts.
Now factually those short shorts are even more dependant on my Shiraz and my food however that complex equivalent absolutely works to get me on the treadmill. As does this one…
Ditching my intervals session means I am a hypocrite who is not walking the talk or being an inspiration to my clients.
RECIPE: 4 ingredient Vegan Pots de Crème. Laura Theodore, the (vegan!) Jazzy Vegetarian shares: This delicate, rich dessert is based on a recipe my grandma often made. When I was a child it was my favorite dessert, but it was packed with eggs and heavy cream. Here's a fail-safe vegan version that faithfully reproduces the taste of Grandma's specialty.
NON-RECIPE: A personal offering from this lazy non-chef! As an after dinner sweet treat I'm loving frozen cherries served with a hot salted-caramel protein powder drink! I don't have an international recommendation brand wise however choose the brand and flavour of vegan protein powder you love. Microwave a 1/3 cup of plant milk with 2/3 cup of water than add a heaped teaspoon of protein powder and dunk those cherries in it! Repeat!
9 Words to Contemplate.
What if we focused first on our shared commonalities?
If you enjoyed this vegan goodness and good news email please share the LOVE with someone who would also find value in it.
They can subscribe to 2-6-9 vegan goodness and good news here:
See you next week!
Kate Galli
Author of Plant Positive Journal and host of Healthification Podcast.