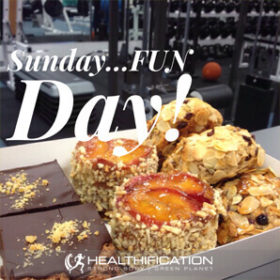 I'm a fan of the cheat meal rather than the cheat day.
Why?
ONE: There can be of course too much of a good thing.  It is possible – rather probable – you will over consume in a whole day of cheating and undo the progress you've just made in a week of great eating.
TWO: It's tougher to get back to clean.  A whole cheat day is much more likely to lead to a cheat day + brunch… and spiral into a cheat weekend… and before you know it you're completely off plan and cheating all over the place.
A planned cheat meal can absolutely work in your fat blasting favour.  I've already covered the hormonal consideration here: The Secret To Making Cheat Days Work For You.
In short.  To lose weight you need to be in calorie deficit AND when you decrease your calorie intake it mess's with an important fat-burning hormone called leptin.  It only takes roughly a week of moderate dieting for leptin levels to drop off significantly.
Low leptin = stalled fat burning.
The answer is to strategically introduce a day in which over a meal you overfeed and then leptin rapidly reaches it's baseline again.
Here are 3 key points to make sure your cheat meals do work:
1. High Quality Cheating.
Your cheat meal is not a time to throw fake processed and packaged rubbish at your body.  A fix each week of craving causing deliberately addictive 'food' is going to make it tougher – near impossible – to eat and enjoy the quality fuel your body deserves the rest of the week.
=> Instead enjoy the high carb, high fat, high caloric density foods that don't factor into your day to day eating.  Good quality pizza, pasta, chips and desserts are all fine for cheating so enjoy them guilt free.  Again we're thinking food ingredients you grandparents would recognise not frankenstein fake foods.
2. Love Your Other Meals.  
For sustainablity it's vital you LOVE the vast majority of the food you consume.  You're not going to suffer through tuna, lettuce and cottage cheese for long enough to see then keep your results if you find it tediously bland and boring.  Coming up with quick and nutritious go2meals is vital.  Sure you may not get quite as excited by them as your cheat meal, however they need to be enjoyable.
=> Focusing on more than just the taste of a meal helps with the love factor.  For example I love that the massive 20veg+ salads I regularly consume provide my body with a heap of micronutrients.  Also that I get to eat a massive, visually pleasing serve.  Finally I love that I get to feel satisfied and energised after such a meal and not stuffed or lethargic or guilty.
3. Optimise Your Other Food.
This basically involves being more conscious of and deliberate about what goes in your stomach.  
Ditch the lil extra unplanned habit.  Those extras add up.  In fact they'll add up to the point of eradicating the calorie deficit you're working so hard to create and voiding the need for a cheat meal.
Are you perhaps a:
'Mindless Muncher' – an aimless eater, you find yourself eating merely out of habit or to be polite/fit in or just because a dear client/colleague has passed around some tempting home baking.
Your reframe solution: AIMLESS does not get you results in any area of your life.  Aimless eating equals ordinary health – at best – that is what the people mindlessly eating with you are 'enjoying' I imagine.  Upgrade mindless to mindful by consciously asking yourself "Does my body really need this right now?" and enjoy extraordinary health instead. 
'Leftover Labrador' – a scavenger eater, you will 'tidy away' food rather than see it go to waste.
Your reframe solution: WASTE is when you spend hours of your time, energy and money trying to 'work off' those extra fat stores hanging to your belly, hips and thighs as a result of leftover labrador behaviour.  Equally WASTE is the energy you relinquish to feeling guilt, frustration and perhaps low self esteem when you don't manage to work off those aforementioned fat stores.
'Emotional Eater' – a reactive eater, you live at the mercy of your emotional ups and downs.  Consuming food to fill a need, or block a feeling… even though the relief is only fleetingly short term.
Your reframe solution: upgrade REACTIVE for PROACTIVE.  Reaching for food to fill a need is a signal that you have an opportunity to fix something that is making you unhappy.  There are limitless alternatives to allow you the same feeling in a more resourceful way, or even to allow you time-out from such feelings in a way that is not detrimental to your best body and your best health.  However, these alternatives will not spring helpfully to mind once you are in the emotional eating moment – you need to put in the time prior to plan your proactive solutions.
Personally I'm highly proficient at mindless, labrador and emotional eating!
I really do have a strong attachment to food. Although many of my one on one clients think I'm 'blessed' with not loving food, that is 100% inaccurate.  It really does take work for me. The way I manage to stay my goal shape is to acknowledge my areas of vulnerability and actively out-plan and reframe in advance.
Oh, and of course to enjoy each week a lovely indulgent scrumptious cheat meal.
Love to hear – what's your absolute most fav cheat meal?