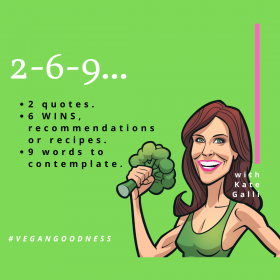 In this new weekly email series I'm sharing vegan goodness and good news:
2 quotes.
6 WINS, recommendations or recipes.
9 words to contemplate.
My intention is to provide a little spark of positivity for us both (!) to take into our weekend.
Talking "weekend" and time out, I feel lucky to remember the days before mobiles and social media. The days when you made plans, stuck to them, didn't run late, AND gave the person you were spending time with your full focus and attention. Can you remember those days?
The thing is we can all still enjoy the vast benefits of technology while also setting the boundaries that will allow us to remain calm and present.
With that in mind this 2-6-9 email is focused on, Abundance and Focus.
2 Quotes.
"Abundance is not something we obtain, but something we tune into by changing our perspective and focusing on what we already have." – Unknown
"The key to abundance is meeting limited circumstances with unlimited thoughts."– Marianne Williamson
6 WINS, Recommendations or Recipes.
If you've been lucky enough to eat at any of Matthew Kenny's 50 restaurants globally you will be as excited as I am to hear this.
To quote the celebrity chef: "I've spent over 25 years elevating vegan and plant-based cuisine and surprising consumers with an innovative and delicious approach," "Being able to make this experience accessible with Earth Company was the natural next step."
As it expands its product range in the coming months, Earth Company eventually hopes to offer an entire day's worth of meals for $10.
Win: A Vegan Cooking Contest Just for Hospital Food. The amazing organisation, PCRM (Physicians Committee for Responsible Medicine) suggested including a plant-based requirement for this years Healthy Hospital Initiative Cooking Competition for DC hospitals.
It absolutely warms my heart to see progress in getting the food that can help prevent and cure chronic disease into hospitals where it is urgently needed.
Recommendation: Setting or re-setting boundaries with your device and social media. I may be slow to the game however I've started using the "do not disturb" option on my mobile. It's set from 6pm to 4am daily. You can design your own perfect schedule.
What you will find is it's freeing to know there is a set schedule where you will not be disturbed (at least by your mobile!).
Recommendation: available for ONE more week only the Plant-Based Bundle:150+ Ebooks, Programs and Guides offered at a 99% discount!
Two of my favourites include: "Flavor Forward Vegan Comfort Food" by @tyberrymuch and "Plantifully Wholesome" by @plantifulkiki. Please consider using my link if you do purchase the Plant-Based Bundle.
RECIPE: Vegan Stuffed Shells from plantifulkiki.com. These simple stuffed giant pasta shells look like an absolute crowd pleaser. The filling is cashew and cauliflower based with abundant flavour added.
RECIPE: Actually 5 recipes by Pick Up Limes in the form of a $1 a meal Vegan Budget Challenge. Sadia reveals not only many great cost saving hacks, she also shares how to build balanced meals and is so calming to listen to! I highly recommend you check out everything Pick Up Limes on Youtube or via the website:
9 Words to Contemplate.
Gratitude can shift your perspective replacing fear with abundance.
If you enjoyed this email please share the LOVE with someone who would also find value in it.
They can subscribe to the 269 weekly email here:
See you next week!
Kate Galli
Author of Plant Positive Journal and host of Healthification Podcast.